Highland Park Lincoln Brake Service
We Know Your Brakes Best
Nothing is more important than ensuring the safety of your vehicle — especially when it comes to protecting your most precious cargo. That's why it's so important to have highly skilled technicians service your brakes. At Highland Park Lincoln, we have the right parts, technology and trained certified technicians to meet your every need.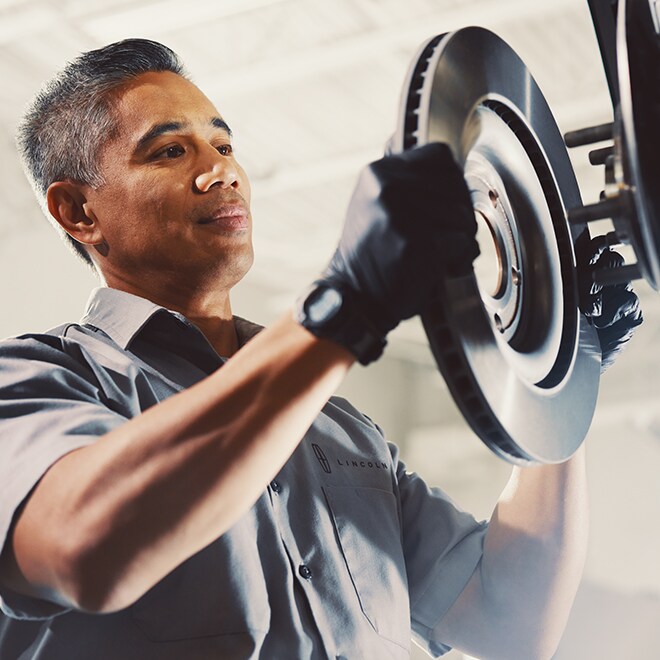 How can I tell if my brakes need servicing?
The brake system is one of the most important safety systems in your vehicle. It is necessary to have it inspected during regular maintenance checkups to ensure proper performance. Here are some common signs that your brake system needs servicing:
• Brakes feel spongy or hard to press down
• Squealing or grinding noises
• Your car pulls to one side
• Your steering wheel or brake pedal shakes when applying the brake
• Your Anti-Lock Brake System (ABS) warning lights come on
Why choose Highland Park Lincoln for brake repair?
Lincoln Pickup & Delivery™* offers the convenience of a complimentary loaner vehicle, so service will never slow you down. And our factory-trained technicians offer a comprehensive brake inspection including:

• Checking for even wear and measuring brake pad/shoe thickness
• Ensuring brake lines and master and wheel cylinders aren't leaking
• Checking rotors for hot spots and run-outs
• Inspecting calipers for wear, fluid leaks and movement
• Checking anti-lock brake sensors
• Testing hardware and making necessary adjustments
• Checking brake fluid condition and levels

Other benefits of Highland Park Lincoln brake services include:
• Factory-trained and certified technicians
• Specialized equipment
• Premium parts
• Lincoln Pickup & Delivery
• Complimentary Lincoln Loaner
• Parts and labor warranties
• Client lounge and business centers with complimentary Wi-Fi

*Lincoln Pickup & Delivery service is valid for owners of 2017 model-year or newer Lincoln vehicles. Service is available for retail and warranty repairs. Mileage limitations may apply. See your dealer for details. Lincoln reserves the right to change program details at any time without obligation.
Questions about Brakes? We can help
* Indicates a required field